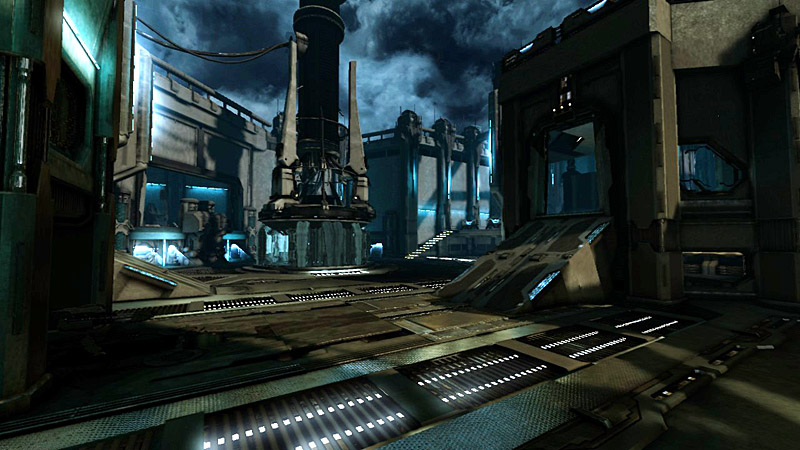 A multiplayer level from "Resistance 3" (Terraformer Exterior). A combination of angled sunlight, low level fill light, and machinery "detail" lighting. Hover cursor over image to see with and without lighting.
Boarded up mine entrances, in morning sunlight. (Rollover image.)
Low level fill light, warm light from the right coming from an old light fixture, and some daylight coming in from the broken roof. During playtesting, a number of people couldn't find their way out of this area, so the designer requested a light on the ladder to help with the gameplay path. (Rollover image.)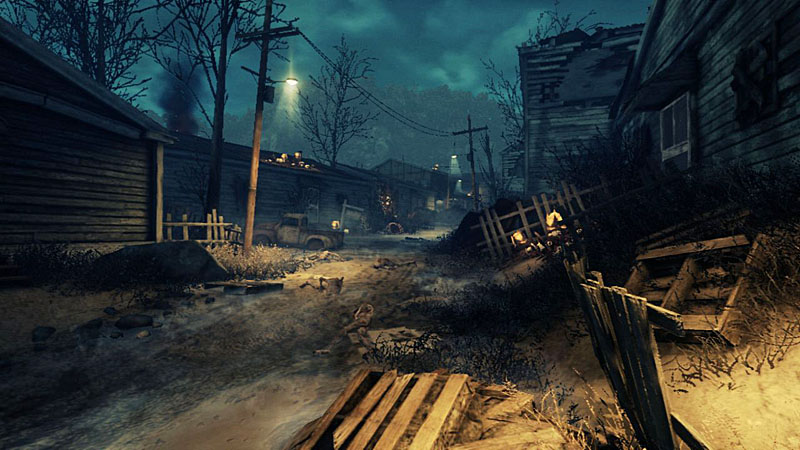 Haven Town. Or what's left of it after some nasty critters have finished with it. Low level cool fill lighting with localized warm spotlights from the town streetlights. (Rollover image.)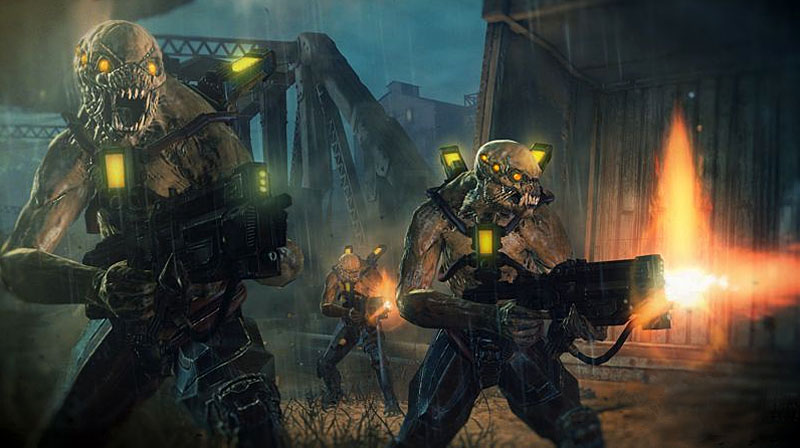 One of the challenges with lighting is getting the animated characters to blend in with the lighting that is frequently baked into the static environment art. In the "Luna" engine at Insomniac, this was handled by the use of lighting volumes, which are placed along the player path. Specific lights can be "grouped" with volumes, so any character passing through those volumes will be affected by those lights. A scene from "Resistance 3".
Roll over the above image to see two versions: a daylight/morning version, and a nightime/rainy version. I wanted the multiplayer version to look substantially different than the single player. Because of the techniques used in this area, I had to re-use the same lightmaps and could not change the sun position or rotation. I was however, able to change sun intensity, color, and post settings to create variation.
Baked area lights, for soft lighting and soft shadows. Hover over image to see with and without lighting. Lighting and shadows that are this soft are still difficult to create without lightmapping. Realtime radiosity/global illumination exists in some form in some engines, but it still has issues of its own. (Rollover image.)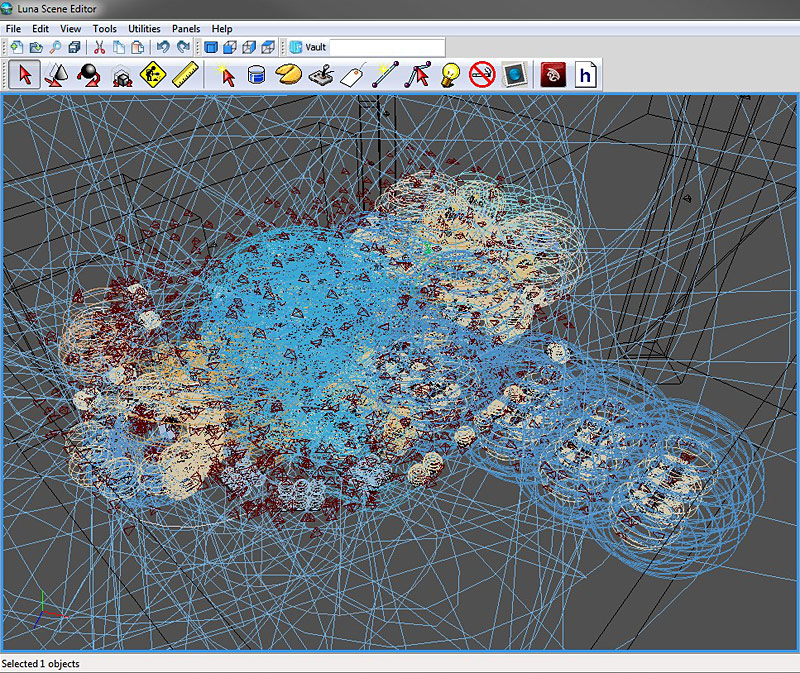 A scene loaded in Luna. This zone (section of a level) has about 900 lights. You can see the colors and radius of each light in this color display mode. Many of these lights are small "machinery detail" lights, allowing small light fixtures to give off a glow onto surrounding environment pieces.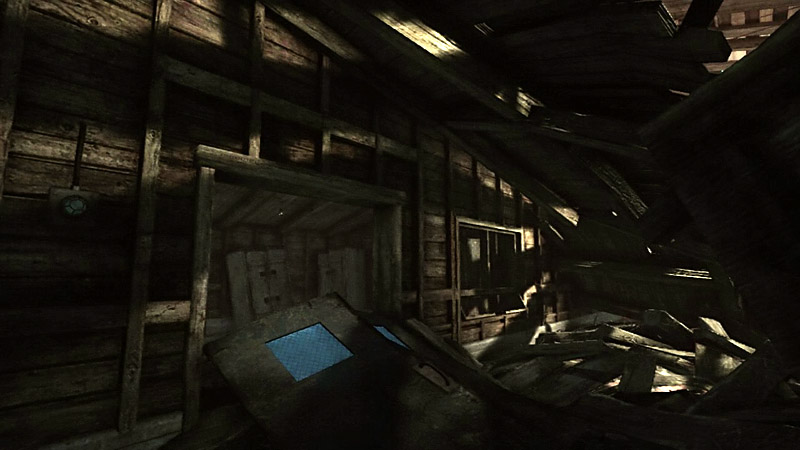 "Broken" lighting is frequently more visually interesting than flat, evenly lit areas. Here, a dynamic light casts long shadows across the walls from behind a collapsed ceiling. (Rollover image.)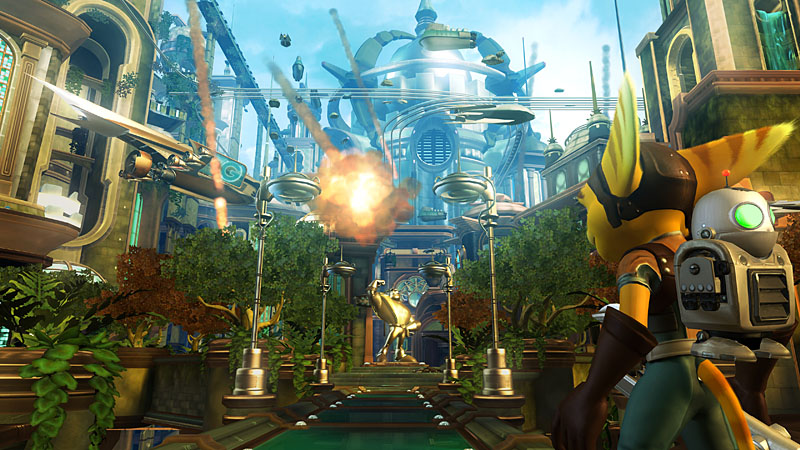 Metropolis, from "Ratchet & Clank Future: Tools of Destruction". One of the levels I lit for this title. The same engine was used for both Resistance and Ratchet & Clank titles, with the obvious differences being a much brighter, more saturated palette for Ratchet & Clank.
Another screenshot from "Resistance 3".
Dynamic or "real-time" lights are great because you're not limited by lightmap resolution, and they affect everything in the scene, including characters. If your game tech allows for it, this even means self-shadowing on characters. Dynamic lights like the one shown here can also be scripted to flicker or turn on and off. In this shot, the baked lighting is very dark, allowing the single dynamic light to work its magic. (Rollover image.)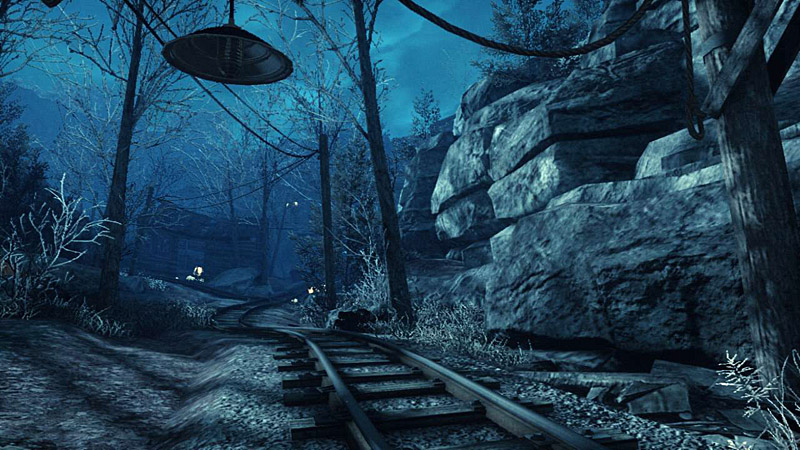 Outdoor forest area with moonlight through trees. Hover cursor over image to see with and without lighting. (The "without lighting" version is displayed ingame or in the editor by bypassing all baked lighting information, and showing only geometry with shaders applied. This is often used in troubleshooting, and determining if a given problem is caused by lighting errors or something else.)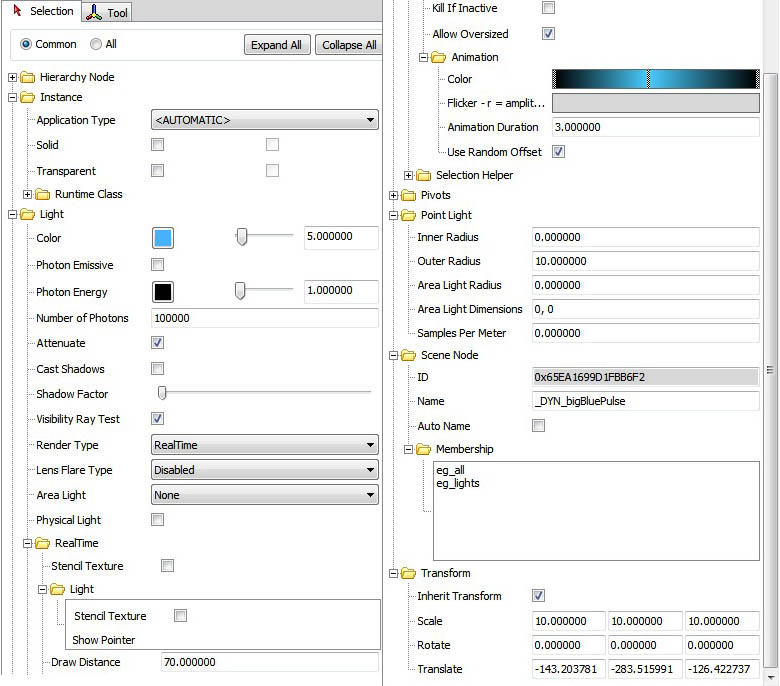 A shot of the lighting properties panel. The selected light is a dynamic (real-time) light, set up with a slow "pulsing" animation. I use the prefix "_DYN_" on all of the dynamic lights in my levels, which makes it a lot easier to track them down when making changes or troubleshooting. The 3 light types in this engine are "RealTime", "Baked", and "Lightmap Only". RealTime lights are dynamic, and affect everything in the scene, as well as casting dynamic shadows. Baked lights affect both animated characters and are baked into lightmaps as well. Lightmap Only means the lightmaps are baked into static environment art, but the light will not affect animated characters.
Keeping light localized to limited areas means nearby dark areas that sometimes require the unnerving "flashlight only" gameplay. (Rollover image.)
A couple of typical cubemaps. Cubemaps are rendered after placing a lighting probe in the scene and including the lights you want to use in the lighting job. They are rendered as "cross" .hdr images, and can be hand edited in more recent versions of Photoshop. The cubemap on the left is for an area indoors with a lot of machinery, and hotspots have been painted in. The cubemap on the right is for an outdoor area. Cubemaps are created to show what will be seen in the reflections of shiny/reflective surfaces, and can be applied to geometry and lighting volumes on a per-instance basis.
Floor lights cast nice creepy "upward thrown" shadows. (Rollover image.)
Lots of small, dim lights with a large radius were used here to simulate the ambience of candlelight. (Rollover image.)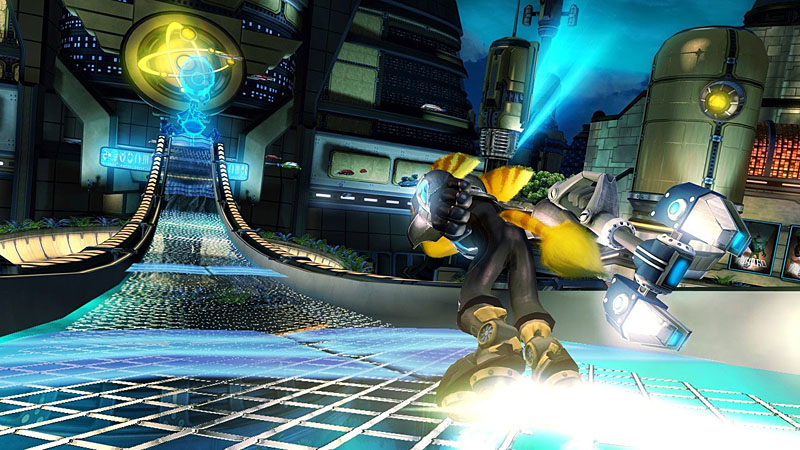 A scene from Axiom City, a level I lit for "Ratchet & Clank Future: A Crack in Time". This night time city level was composed mainly of spotlights pointing upward to complement the "searchlight" theme, along with localized lighting given off by neon and sign lighting.
Long shadows on an aircraft carrier, from a sun closer to the horizon. (Rollover image.)
Titan mechs from "Command & Conquer: Tiberian Sun".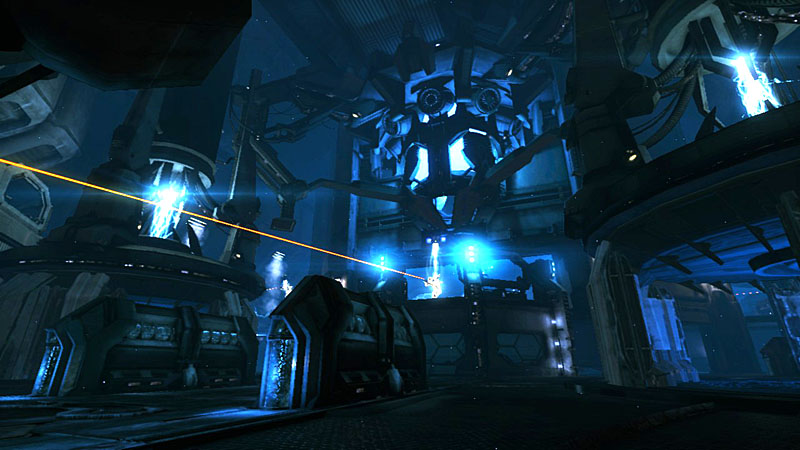 An alien scans the area with a laser sight. Terraformer interior from "Resistance 3". Low level cool fill light with fog and lots of small machine lights. (Rollover image.)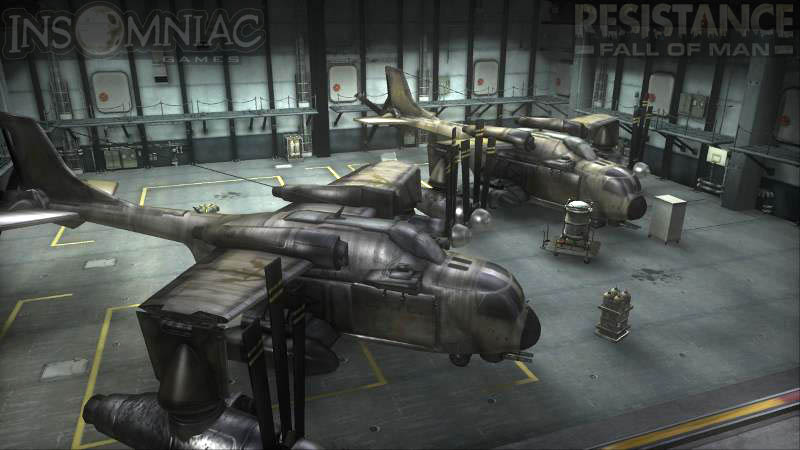 Baked shadows in the lightmaps allow for soft shadows under the aircraft. (Rollover image.)